SEO plugin SiteAttention for EPiServer reviewed
<p>In-depth look at EPiServer plugin SiteAttention, which helps editors rate the SEO friendliness of content in realtime - while it's being written.&nbsp;</p>
Why should EPiServer editors focus on SEO?
According to the SiteAttention promo video, Search Engine Optimization (SEO) will help websites like Betty's car manufacturing company "I-Roll" (obvious pun on Volvo) increase their revenue. (Perhaps fellow Swedish car manufacturer SAAB should have focused more on SEO?)
Producing great content alone isn't enough if users can't find it. SEO helps bridge the gap between content and search engines.
(TL,DR? Jump to the summary.)
Expert SEO advice plugged directly into EPiServer
SiteAttention for EPiServer CMS is an SEO tool by Danish company SiteAttention A/S. The plugin can be downloaded from EPiServer World, and comes in license versions Freemium (free) and Premium.
Main features
installs as a regular EPiServer module via DeploymentCenter, small footprint
shows SEO improvement suggestions in realtime while the editor types
can be used to improve previously created content as well
improvement suggestions are easily comprehensible for editors with no prior SEO experience
graphical elements like pie charts and status bars help the editor interpret the data quickly
percentage scores add a game-like quality and makes achieving 100% a fun challenge
when new SEO rules/advice are added, they become available to all editors automatically
Freemium license version
is free to download and use
is a functional but stripped-down version
includes a selection of SEO best-practises rules/advice for text content, titles etc
provides simplified matching of content against keywords/phrases
Premium license version
has a monthly license fee
includes more best-practises rules/advice for text content, titles etc
enables categorizing of important keywords and phrases, for editors working with content in different business areas/topics
can suggest keywords and phrases based on content
can suggest keywords and phrases by analyzing frequently used search phrases (via Google Keywords/AdWords integration)
can retrieve web traffic data to measure effect on pageviews and search queries (via Google Analytics integration)
supports keyword analysis using English, Danish, Swedish and Norwegian language (Norwegian is not listed on the Premium info page, but it is indeed supported)
Installation footprint
Please see the press release for installation and activation instructions.
The installation footprint is small. The following is added to your website root:
an assembly in \bin
an xml file in \lang
a new folder \modules\SiteAttention containing ASPX, CSS and JS files
Config files and database are not touched by installation.
After installation, a new module called "SiteAttention" will be visible under the CMS tab.
Note: This tab has no function other than to display SiteAttention's own website in an iframe. Wasting dashboard space with blunt advertising like this is bad IMHO. (Disabling the tab is a bit tricky, but a quick fix is to empty the contents of the \modules\SiteAttentionInfo.aspx file. Don't delete it though - will cause a 404.)
You'll find the plugin configuration under Admin Mode > Tools > SiteAttention. This is where you activate the plugin, enter license key and adjust settings for properties.
Adjusting generic settings
The plugin need to know what kind of properties each pagetype contains.
By default, the only properties SiteAttention will monitor are variants of string (String, LongString, Xhtml) - properties like PageName, Heading, MainBody etc.
To show other propertytypes, uncheck the box "Only show Properties of type String, LongString and XhtmlString".

Also by default, most built-in properties are hidden. To show and configure all properties, uncheck the box "Only show selected built in Properties".
Note: Use with caution. Editors really shouldn't be given the option to mess with built-in properties for pagetypes. Properties like PageName often affect the page's FriendlyUrl and will mess with visitors' bookmarks.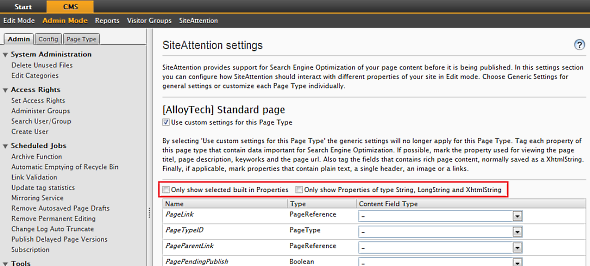 The user interface
The Admin mode plugin and the dashboard tabs inherit the look-and-feel of EPiServer CMS.
However, the user interface that is showed during editing is differently styled and feels distinctly more like a third party tool than an integrated module. Unfortunately there is no way for the site owner to apply EPiServer styles since the stylesheets are hosted externally at SiteAttention.com.
Still, it's a sleek, intuitive and functional interface.
Exploring the SEO toolbox
Using tools and rules
The SiteAttention toolbox docks discreetly in the lower right corner while editing, and slides into view when clicked. This is a nice feature that keeps the tools ready to use without stealing too much of the editor's workspace.
Most scores are updated automatically while content is typed, however sometimes it seems the page must be saved to force the score to be updated. No big deal.
Most of the rules/advice are useful and intuitive. However, some of them might feel a little bit forced for editors who are used to writing natural flowing content, without systematically repeating keywords and phrases. E.g. the rules "There should be keywords and phrases in all headers" and "The body text should contain between 4 and 8 keywords per 100 words".

While this can improve SEO, it forces editors to add words they otherwise might not. It depends on how much SEO experience the editor has.

Integrations with external sites
For Premium users, the integration with Google Keywords (AdWords) and Google Analytics is a really nice touch. Statistics about pageviews, search queries and keywords are retrieved and used to suggest improvements to the editor.
Google Keywords and Google Analytics are of course free standalone tools which most editors should have some experience with. Even if they don't, the data is incorporated in SiteAttention in a way that is intuitive for editors, and can add valuable statistics.
The SiteAttention engine is not actually fully integrated into EPiServer, it is hosted on SiteAttention's own servers, and interfaces with the EPiServer content using a little Javascript magic. This way, the engine can introduce new rules and algorithms, which are instantly available on each EPiServer site without the need for a re-installation. (This also allows SiteAttention to be reused for several CMS systems).
This model naturally requires that website owners can trust SiteAttention.com not to archive sensitive analytics data and details about keywords, categories etc (which I'm sure they don't). For many businesses, content/keywords strategy is what gives them an advantage over competitors.
SEO has changed - Quality content trumps trickery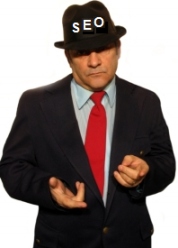 SEO used to be a complex and shady business, reserved for experts who could trick search engine robots into boosting their site's ranking. Content quality often didn't matter as long as page ranking was high. High visibility = traffic = sales.
Search engines have evolved since then. Their algorithms now reward content written for humans, not robot spiders. The major search engines have implemented penalty systems where sites that over-optimize get a lower ranking.
As a result, content quality has improved in the last few years. More and more editors focus on creating well-written, well-structured content, which on its own helps improve SEO.
SEO practises have changed a lot as well. In the past, getting a good ranking required an arsenal of meta tags, artifical keyword stuffing and other trickery. Now, good content combined with a manageable set of meta tags and keyword placement will give good results.
Content strategy and SEO are now two important pieces of the same puzzle.
Summary
The good:
Pain-free installation and setup
Intuitive and requires minimum pre-knowledge of SEO
Even free version adds a lot of value
Makes improving content into a fun challenge rather than a chore
Integration with backend analytics tools
Will make the editor more aware of the correlation between good content and SEO
The bad:
Dashboard tab should be used for something more useful than self-promotion
Limited ways to customize the module since engine and styles are hosted externally
Editors without understanding of SEO will alter their content without knowing why or what it does, just to reach a 100% score. Content quality (as in readability for humans) may suffer a bit from this.
Thanks to SiteAttention AS for providing us with a Premium license for review purposes, and for quick response to a few bugs that were encountered during my research.