Last week I attended the three-day course on EPiServer v7.5 held by the great guys at EPiServer Norway. This was my first encounter with EPiServer CMS, and I must say I´m impressed.
After the basic introduction to EPiServer with stats and facts, we got access to a demo site. Here we could play around as much as we wanted. We started off by comparing version 6 and 7.5 with focus on basic functionality. Such as managing text and images. Adding and formatting tables and arranging media in the media library.
From an editor's perspective, the biggest difference for the two versions (apart from the obvious "in page editing"), is the introduction of "blocks".
Power shift to the editor
As project manager for numerous CMS projects I am used to the concept of webparts; a module that can be reused on different pages but displays the same content (or context-aware content). Typically a box in a column that lists the most-visited articles. Or an image slider with the latest added profile photos. With webparts, you can set attributes and manage settings globally and it will be updated on all pages where they are used.
But as I recall, webparts put all the power in the developer's hands. And that is not the case with blocks in EPiServer v7.5.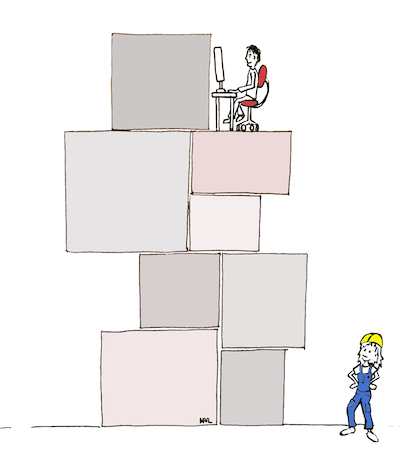 Of course, developers have to create the basic structure of the different block types. But settings and usage is up to the editor. A library of block types will be at your disposition. Add, change and publish on any page. Even block user permissions are easily managed. Without e-mailing your developer or calling your interaction designer for assistance.
This gives you a large number of possibilities. And if the site is configured the right way, this will really ease and improve the editors' everyday workflow.
But it's a battle for any organisation to maintain the site's intended design, structure and tone as the site grows older and increases in size. And with more functionality comes more possibilities.
With more power comes more responsibility
This raises some general question, such as:
How can we give more power to the editors, and still ensure the quality level of the site in the long run?
Are blocks really as great as it seems? Should we give the editors free reigns with blocks, or should we consider restricting them?
And some more practical ones:
What is best practice for using blocks, and what should be avoided?
Are there any good/creative examples where the concepts of blocks are used to increase conversion rates?
What are the interaction designers' reflections on the use of blocks?
I realize I need an expert's view and input to come any further. And I know where to find some of the best. So stay tuned for my next blog post where I will try to share my findings.
And if you don't have the time to wait, just give me a call for a quick update ☺