Sneak Peek at the EPiServer 7.5 Roadmap
Like EPiServer 7.0 marked the first big UI and platform change, the upcoming 7.5 release will mark the next big leap forward.
Disclaimer: This information is based on an official - but preliminary - tech demo and roadmap presentation at the EPiServer TechForum and Partner Awards in Oslo May 30th 2013. Features listed here may be changed or removed from the final product, or may even be figments of my imagination/bad memory. This blog post is published with permission from EPiServer.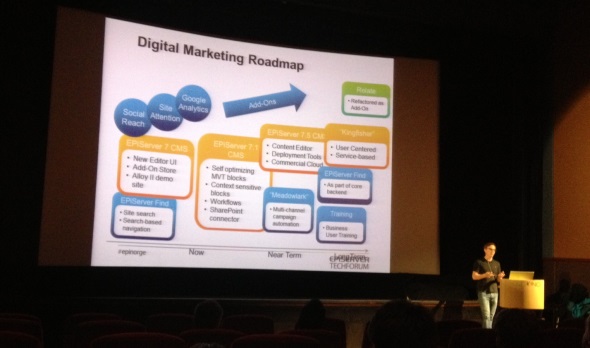 Peter Sunna of EPiServer talking about the roadmap for upcoming releases.
Seamless editing and preview
In On-Page-Edit mode, instead of the current fly-out editor window, the TinyMCE buttons will hover next to the piece of content you are editing. Which means more available workspace and an even more seamless way of editing your content.
Bye-bye classic edit mode
Up to EPiServer 7.1 you could still use the old edit mode by entering the URL /YourUIPath/CMS/Edit. In upcoming versions, expect this feature to be phased out in favor of the On Page Edit and Forms Edit modes only. I would also not be surprised to see the admin mode given a UI makeover in upcoming releases.
File Manager becomes Media Library
The File Manager in the assets pane will be given some much needed love and will become a Media Library with a UI update. The new media library will get rid of the right-click context menu dependency, and feature drag-n-drop file upload, image editor and metadata editing.
The current VPP concept will probably change into a consolidated assets repository for all the EPiServer products installed on a site, structured into global and local media assets (like the current Global Files/Page Files concept).
Files as content types
Files will become true content types just like pages or blocks. This means that files types could be defined in code and have strongly typed property access, versioning and access rights. Metadata about the media file will get forms editing like any other content type.
Improved Commerce UI and templates
Commerce will be upgraded to the EPiServer 7 platform to take advantage of the new UI and API features.
The Commerce Manager backend, which until now has had kind of a "third party" feel to it, will partly get a UI makeover to make it feel more like an integrated EPiServer product.
There are plans to release new demo templates for Commerce to replace "Click+Talk" and "Enoteca", which will focus more on showcasing a wide range of functionality for developers, rather than just slick visuals.
More focus on cloud services
EPiServer already offer Cloud Hosting and TestCloud Hosting, which offer setting up a dev/test/production environment on virtual servers in a matter of minutes. In addition, they will focus on improving integration with Microsoft Azure deployment.
EPiServer Find more integrated
Find will be more integrated with the core product, leveraging its search API capabilities to offer more flexible ways of retrieving and structuring and navigating content and assets.
Marketing and SEO features as Add-Ons
In addition to existing features like personalization, self-optimizing and context-aware Blocks and add-ons like Social Reach and SiteAttention, upcoming versions of CMS/Commerce will include even more marketing related features like:
Multi-channel marketing automation
Integrated campaign management
B2B improvements
Improved sales/social/ROI reporting tools
Tools to empower customer service
CRM integration
SEO Manager
Many of these features will be distributed through the Add-On Store as 3rd party free or commercial plugins.
Community/Relate upgrade on the horizon?
With CMS (and soon Commerce) lifted to the EPiServer 7 platform, and more and more social features being embedded into CMS - what about Community?
There are apparently plans to lift the Community/Relate product to the EPiServer 7 platform and distribute it as an Add-On Store plugin - although this will probably not be done in time for the upcoming 7.5 release.
Looking ahead
With the EPiServer 7 platform being released less than a year ago, it is not yet time for a major version change (i.e. EPiServer 8). But labelling the next release as v7.5, EPiServer signals that it is a big leap forwards from the current v7.1.
Expect to see more information about the upcoming release revealed on world.episerver.com in the coming months.