Opticon 2023 Highlights: Optimizely One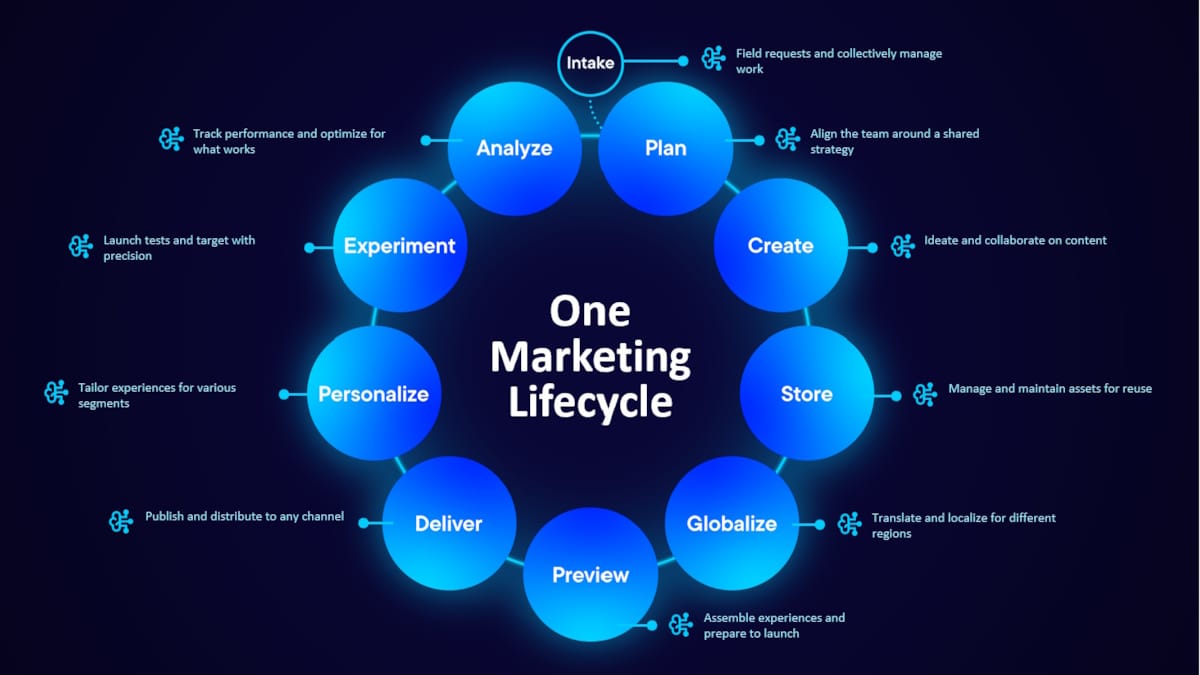 Among the highlights of Opticon 2023 was the announcement of Optimizely One - a rebranding of the DXP platform and a conceptual reinforcement of how the Optimizely product family, as a whole, constitutes a complete toolbox for the entire publishing cycle.
Optimizely One - an "operating system for marketing"
Until recently, you were used to the term "Optimizely DXP", referring to the cloud-based product family from Optimizely. The new term you need to get used to going forward is Optimizely One. This is not a new product, but rather the new marketing name that will replace the "DXP" name.
As you may know, DXP stands for "Digital Experience Platform", an industry term suitable for explaining what such a platform offers, but not very suitable as a unique brand name. Many other major players also use the DXP term for their products, such as Sitecore, Adobe, Magnolia, Bloomreach, etc.
The name change to Optimizely One takes effect immediately, and "DXP" as a name is therefore deprecated starting now (but for the sake of clarity: Optimizely One is very much still a DXP platform, offering a full range of tools for the entire marketing, user experience, and commerce cycle).
So, Optimizely One will be the overarching term for the entire cloud-based product family from Optimizely going forward, emphasizing the connection between the products. The new name also suggests that if you operate a website or online store, you will have one centralized place to manage publishing.
Why is Optimizely One called "an operating system"?
Relax - there's nothing complicated to install - it's just a fancy way of saying that all the products are designed to work together. There's a tool for every stage in the process - from collecting and organizing data, to planning and publishing content and product information, to automating communication and transactions.
Optimizely products will soon share a common login and a consistent interface look, and they are built to exchange data in agile ways. All Optimizely products also have APIs for data exchange and manipulation, and several of them have ready-made standard connectors that make integration even easier. Some connectors link two Optimizely products, while others link Optimizely with products from other industry-leading providers. The result is that you are never bound to just Optimizely, but can use what works best for you.
Is Optimizely One a product you can buy?
No, not literally (even though the marketing makes it sound like an entirely new hub or platform). Instead, you purchase the individual products you need from the Optimizely One product family and assemble them to best suit your organization, just as before. Optimizely is heavily focused on positioning itself as a composable stack, which in practice means assembling products as needed, where Optimizely's cloud-based products work well with cloud-based products from other providers.
How are the Optimizely One products interconnected?
If you have more than one Optimizely product, you will find that their outputs can be "chained", much like an assembly line in a factory - for example, you can have your content in CMS/Commerce, which feeds data about visitors/customers/sales into ODP, forming the basis for segmentation and marketing through CMP.
The vision for Optimizely One is that it should be perceived as one interconnected ecosystem. The vision isn't fully realized yet, as the ecosystem currently consists of separate products, but Optimizely is continuously working on improving common interfaces, logins, dashboards, and APIs.
Learn more about Optimizely One: