Opticon 2023 Highlights: Optimizely Visual Builder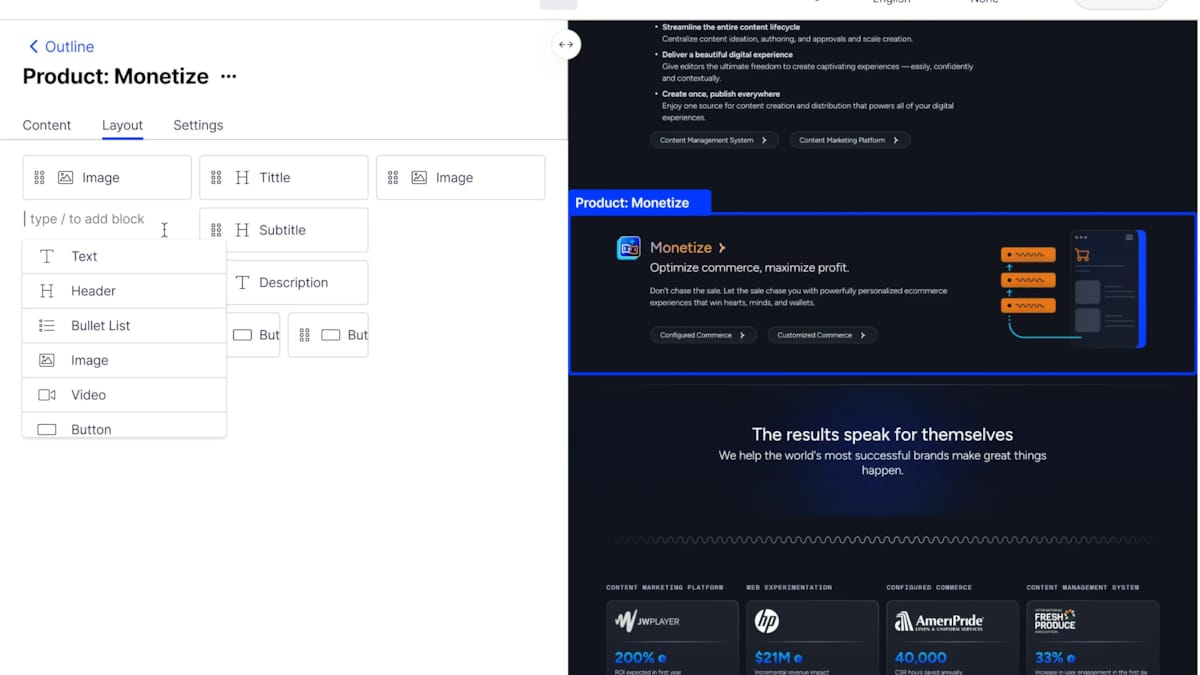 At Opticon 2023, Optimizely reinforced its focus on headless and SaaS variants of the product family. As an extension of this focus, they unveiled plans for Visual Builder - an intuitive new way to compose content.
Optimizely Visual Builder - Intuitive Content Composition
Optimizely describes its new feature, Visual Builder, as a "visual experience builder" with an "elegant, intuitive editing interface that empowers content creators."
Visual content composition is not a new concept in itself – Optimizely's CMS flagship has had it for over 10 years already through the built-in On-Page Editing mode. What's different now is that Visual Builder is offered as a standalone tool and is part of Optimizely's new SaaS/headless initiative and product offering.
Features about the new Visual Builder include:
An improved visual look that focuses on content composition, unburdened by the extra scaffolding that a full-fledged CMS would typically have.
A visual, drag-and-drop-based interface that makes it easy to assemble content blocks and preview how they will be published.
Easy creation of content templates without the need for coding.
Integration with the new Optimizely Graph for content manipulation and interconnection.
Personalization tools built into the editing interface.
Who should use Visual Builder?
Now that Optimizely is launching both CMS and Commerce products in a SaaS variant, content will become more decoupled from the presentation layer, meaning content is stored in a structured data format without presentation formatting (HTML). This allows content to be retrieved from the database in a 'pure' form, giving Optimizely customers greater flexibility in choosing both the editing interface and the digital channels to which the content should be adapted.
Visual Builder appears to be positioned as the top choice for a 'decoupled' visual content composer for those using Optimizely SaaS who do not want to use the editing and workflow within Optimizely CMS.
With Visual Builder combined with the powerful APIs in Optimizely Graph, Optimizely SaaS will function as a pure headless CMS, giving Optimizely customers complete freedom to compose, modify, and share content in their own way.
When will Visual Builder be available?
According to Optimizely, the Visual Builder tool will be available in H1 2024. Visual Builder will likely be offered as a cloud-based add-on service and is likely to be integrated with content composition for both CMS and CMP.
More about Optimizely Visual Builder